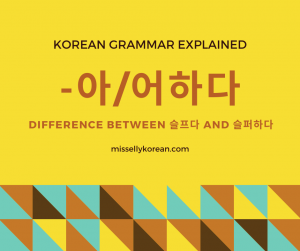 As beginner we all learnt the adjectives 슬프다, 예쁘다, 무섭다, 귀엽다 etc. However sometimes we see 슬퍼하다, 예뻐하다, 무서워하다, 귀여워하다 being used instead. This may seem confusing and some learners think they are interchangeable, which is incorrect. In this post let's look at in detail the difference between the two.
슬퍼하다 is made by adding -어 하다 to 슬프다. If you search for 아/어 하다 you will see explanations on this grammar concept. I feel that most of those explanations are either confusing or difficult to remember or apply, so I have organised them based on my learning experience and present them as straightforward as possible here.
They are broadly two reasons why we have to use the 아/어 하다 structure instead of the basic form of the adjective:
1. When it describes feelings of a 3rd person
2. When it describes how someone feels toward something
Let's look at the first usage. This mainly concerns adjectives related to how a person's mood or feelings such as 심심하다, 아프다, 피곤하다. Normally if you want to say you are bored, you can simply say 심심해요. Or if you ask someone if he or she is bored, you can also just say '심심해요?'
Now if we want to talk about a third person's emotions or feelings, we have to add 아/어 하다 structure after the adjective. For example 아이가 심심해해요.
Some textbook explanation says that this structure describes someone 'seems to be' something. I find this confusing because the more natural way to say someone looks to be something is 아/어 보인다. For example 아이가 심심해 보여요. On the other hand, to express a guess or assumption of what another person feels is -나 보다 /-ㄴ가 보다. Using the same example it is 아이가 심심한 가봐요.
The second usage concerns with adjectives that usually describes an object, such as 좋다, 싫다, 귀엽다, 무섭다, 예쁘다. Obviously these can describe humans as well, but we just need to differentiate these from adjectives describing emotions and feelings.
If I want to say the song is good, I can simply say 이 노래가 좋아요.
However we have to use the 아/어 하다 structure if the exact meaning I want to express is that 'I like this song'. Then we have to say 이 노래를 좋아해요.
Practically the meaning of the two sentences are very similar, however it is important to note that 'the song' is the subject in the first sentence, while 'I' is the subject in the second sentence. These two are not interchangeable and it is important to get this concept right.
When you watch Korean TV, you will hear Koreans say 좋아요 and 싫어요 a lot. The corresponding subtitles are almost always "I like it "and "I hate it ". But we have to be very careful here that the dictionary definition of 좋다 and 싫다 are 'good' and 'undesirable' which describes the object instead of the feeling of like or hate. While it is more natural to translate that way, the literal translation of the two phrases should be "It is good" and "It is undesirable".
Similarly, the definition of 무섭다 is scary which describes an object. If you want to describe the feeling of being scared or scared of something, then we have to use the 아/어 하다 construct.
For example, to say "ghosts are scary ", we can say 귀신이 무서워요.
In contrast, to say "I am scared of ghosts", we have to say 귀신을 무서워해요.
You hear Koreans say 무서워요 A lot when they see something scary. Remember that technically they are describing the object as being scary, instead of describing their own feelings.
You may come across a sentence structure like 저는 귀신이 무서워요. This literally translates into 'I think that ghosts are scary'. Though the subject here is 'I', the 'scary' describes the 'ghost' instead of my feeling, therefore 무섭다 should be used. Be careful because most translations will again simplify this into 'I am scared of ghosts' to be more succinct and natural.
Hope this post helps explain away some of the confusion around this concept. Leave a comment below on what other grammar concept you want Miss Elly to talk on. Happy Korean learning!
You may also be interested in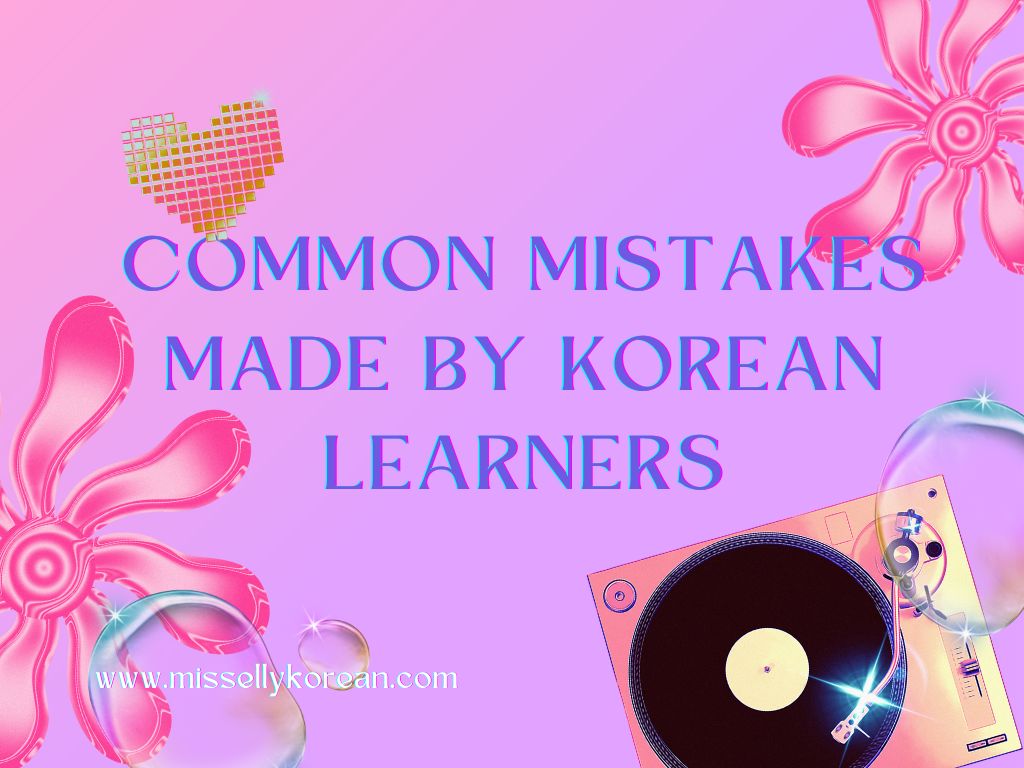 As a self study Korean learner I also did a lot of internet research to better understand Korean grammar concepts and usages. However what I realise is that the quality…